Eco Washing Powder 2.5KG
Grey-water safe, no nasty chemicals
SKU: CNWP25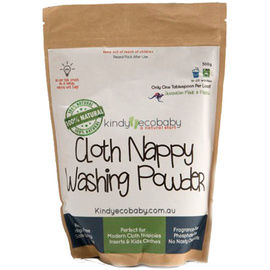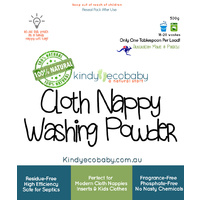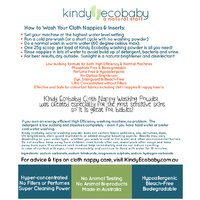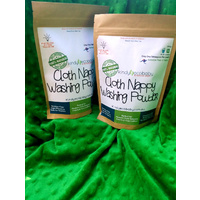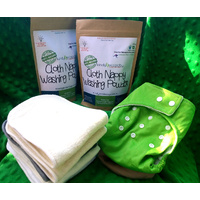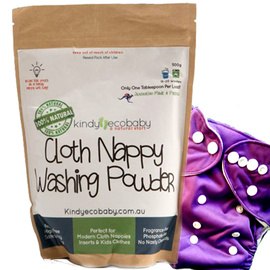 ---
2.5 kg pack last for ages and ages
Residue-Free
High Efficiency
Safe for Septics
Perfect for Modern Cloth Nappies Inserts & Kids Clothes
Grey-water safe
Fragrance-Free
Phosphate-Free
No Nasty Chemicals
Low-sudsing formula for both High Efficiency & Normal Machines
Biodegradable & Hypoallergenic
No Optical Brighteners
Each pack is made to order especially for you

Kindy Ecobaby Cloth Nappy Washing Powder is a must on your list! Stop the stinks in your cloth nappies and nappy inserts naturally and effectively. This natural, grey-water safe washing powder is the only eco-nappy laundry detergent made solely in Australia and has been used to clean thousands of babies' cloth nappies, inserts and clothes since 2012. It was born out of necessity and perfected by listening to what mums want. We combine the right amounts of natural ingredients to clean your stinky nappies, and kids clothes while being gentle on the skin ... and kind to the environment! Each pack is made fresh to order especially for you.
Kindy Ecobaby laundry powder is made of safe, phosphate free ingredients, which are good for the planet, great for kids and adults, and gentle on sensitive skins! It is completely safe for cloth nappies so you don't have to worry about repelling and stinkies. The powder doesnt leave a soap residue behind which will ultimately cause nappies to leak and lock in the stinks.
Our customers love it so much they use it on all their laundry and linens! How do you wash your modern cloth nappies using KindyEcobaby washing powder? Check out our detailed instructions here!
Find out more about all of our eco products by checking out our BabyBlog for heaps of interesting articles and tips! Please email me if you have any questions or want further information at info@kindynews.com.
30 day money back guarantee
---
Standard Shipping
- $11.60 (ETA: 3 days)
Be The First To Review This Product!
Help other Kindy Ecobaby users shop smarter by writing reviews for products you have purchased.