How Cloth Nappies Have Changed since Nanna's Day!
By: Karen On:27 October 2016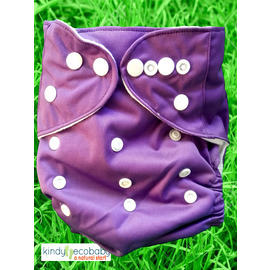 The resurgence of the cloth Nappy Modern Cloth Nappies are so much easier now!
When most of us hear the words Cloth Nappy we all flash to the time when our parents/grandparents used terry squares which they pinned, then put non breathable PVC pilchers over the top.This is not the way of today! Like all things our generation has moved on to new and better ways to do things. Enter Modern Cloth Nappies!
They are as easy as a disposable, no pins, no complicated folding, no soaking and with a lot of MCN they are AIO (All In One) so no cover required! With most MCN they have a layer of PUL (POLYURETHANE LAMINATE) which is a breathable yet waterproof material. Some nappies do require a cover, but covers are available made from Pul material or from 100% wool.
So in most cases it is a simple as grab a nappy, close either the Velcro tabs or push the snaps together and your done! Cloth nappies are so much easier than they use to be! So simple Dads, Grandparents, everyone can use with ease.
The start up cost of using cloth doesn't have to be a huge outlay. Most babies will cost between $40-$60 per week for disposables(depending on brand and how regularly you change), by the time toilet training happens you will be looking at over $4000 (on the cheap side too!) per baby! Compared this to the once off outlay for cloth!
Many people say that the price of washing and drying cloth equals about the same if not more than the price of disposables. This is simply not true. For using cloth full time on your little one you will need between 15-25 nappies (remember these nappies will last several babies and they have a great resale value on the web!). Wow you say, thats a lot! But what you aim for is to have enough nappies that you don't have to wash everyday, but wash every other day. This way you are only washing 3 extra loads per week. Hey we all as mothers know how much washing is involved with a little one, so what are 3 extra loads per week ! You don't even notice!
A lot of people also worry about the drowning risk with having a wet pail for your nappies, hey times have changed and you don't need to use a wet pail any more! The materials our nappies are made from don't require being soaked and we don't recommend it as it can make your nappies less absorbent. We recommend using a dry pail for a few reasons:
NO DROWNING RISK.
Less strain on your back, shoulders, arms, no heavy lifting required.
Less build up of soap in the nappy fibres, meaning stripping only needs to be done occasionally.
If you find that your pail is getting a little smelly you can sprinkle bicarb soda in there and that neutralizes the smell.
Another concern a lot of parents have is "They will be yuck, what am I meant to do with the poo?" Well that is simple, you just add a nappy liner! Majority of the time the nappy liners catch the poo and you can dispose of it with ease. Just drop into the toilet where it belongs! Give the nappy a quick rinse under the tap, and job done! Many people don't know but when using disposables you are meant to actually dispose of the poo in the toilet before placing in the bin as human waste is NOT permitted in with household rubbish.
Kindy EcoBaby only supplies the best quality modern cloth nappies, at very reasonable prices. Why not try our modern cloth nappies for yourself? Just click on this sentence to head to our nappy range page!
If you have any questions on modern cloth nappies, please don't hesitate to contact info@kindynews.com.au
modern cloth nappies
modern cloth diapers
cloth nappies
grandmother
changing times
---
Leave a comment