Mum's Epsom Salts [Pack Size: 1 kg]
SKU: 336_394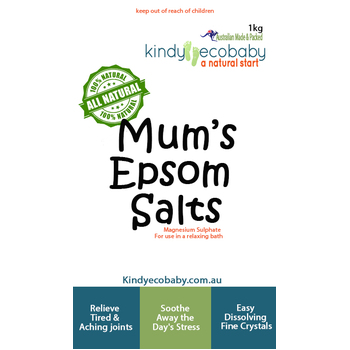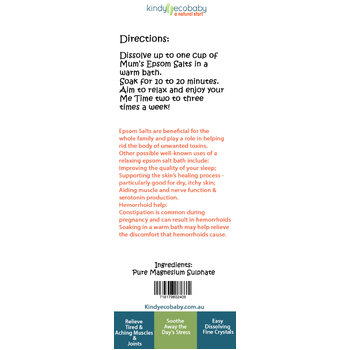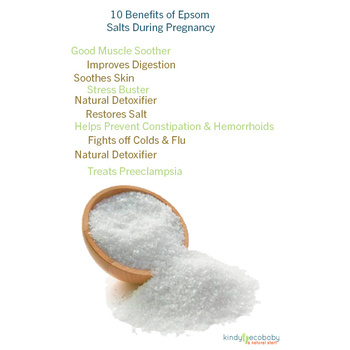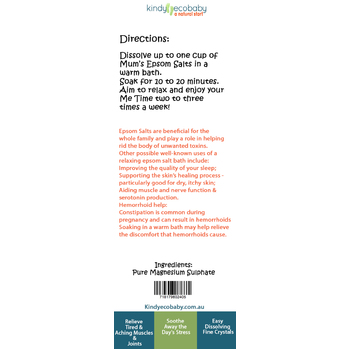 ---
Mum's Epsom Salts
Features:
Relieve tired and aching joints and muscles in a relaxing bath with all natural Mum's Epsom Salts

Soothe away the day's stress and worries

Easily dissolved fine crystals

Constipation is common during pregnancy, and can result in hemorrhoids. Soaking in a warm bath may relieve the discomfort that hemorrhoids cause.

Tired, swollen feet and ingrown toenails

Relief from sunburn
How to Use Mum's Epsom Salts:
Dissolve up to one cup of Mum's Epsom Salts in a warm bath

Soak for 10 to 20 minutes

Relax and enjoy your Me-Time two to three times a week!
Ingrediants: Pure Magnesium Sulphate
Why are Mum's Epsom Salts so beneficial for pregnant mums?
Over centuries, Epsom Salt has provided many benefits to expectant moms including relief from pains and aches, soothing the skin and helping relieve hemmoroids and constipation. And it's just so relaxing to sink into an Epsom Salt bath isn't it?
Eases stress and relaxes the body Relieves pain and muscle cramps. Helps muscles and nerves function properly Helps prevent hardening of arteries and blood clots. Eliminates toxins from the body The sulfates in Epsom salt help flush toxins and heavy metals from the cells, easing muscle pain and helping the body to eliminate harmful substances. Your skin is a highly porous membrane and adding the right minerals to your bathwater triggers a process called reverse osmosis, which actually pulls salt out of your body, and harmful toxins along with it.
Many swear that one of the best and most natural ways to alleviate aches during pregnancy is to soak in an Epsom salt bath.
What is an Epsom salt bath, you ask? What else can it do for me? While many of its benefits are still under debate, there are a number of women who swear soaking in Epsom salts has provided them a number of benefits including pain and stress relief.
The only way to be sure whether or not they will work for you is to give them a try yourself.
What is it?
Epsom salt is a chemical structure that breaks down into magnesium and sulfate in water. The theory is that when you soak in a warm Epsom salt bath, Magnesium sulfate is absorbed into your body through your skin, providing you a series of benefits. The crystals of hydrated magnesium sulfate are a naturally occurring pure mineral compound you can find for sale in most drugstores.
upc: 718179602405
---
Standard Shipping
- $11.60 (ETA: 3 days)
Be The First To Review This Product!
Help other Kindy Ecobaby users shop smarter by writing reviews for products you have purchased.