Small Paint Brush Set for Acrylic Watercolor & Oil [PACK SiZE: 10]
SKU: 224_344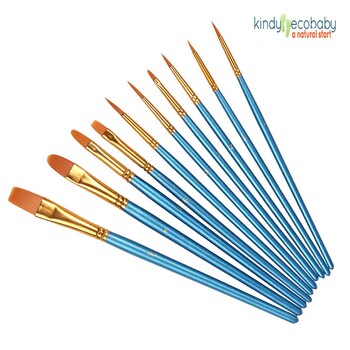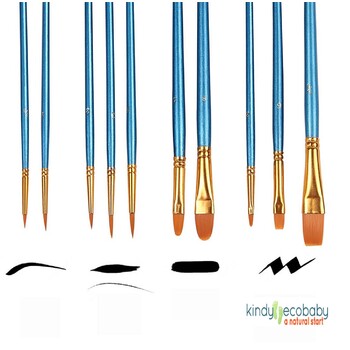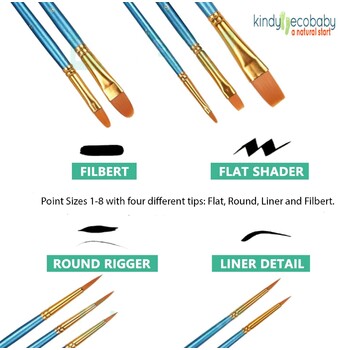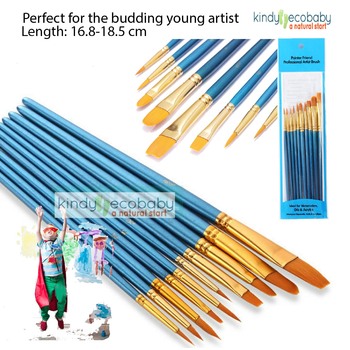 ---
A simple and fun set of Small Paint Brushes perfect for you to use yourself mum and dad, and light and easy for your budding fellow artist to get to grips with. These brushes are suitable for use with for Acrylic, Watercolor or oil paints.
Features:
Nylon Brush Hair: The finest nylon brush hairs from South Korea, providing excellent resiliency
Paints Smoothly and Evenly: These paint brushes offer long wear and excellent colour control with brush strokes. Filaments hold color and release smoothly and evenly
Multiple Bristle Shapes: Filbert, Flat, Round/Script Liner. Range in brush size from no 1 - 8
16.8-18.5 (cm)
Easy To Clean and Reshape: Paint brushes clean easiy with warm water.

Specifications:
Material: Nylon Brush, wooden handle
Colour: Blue
Size: 16.8-18.5 cm
Quantity: Available in 10/20/30/40 brush packs. Please select which pack you would like when you order above

Find out more about all of our eco products and our Kindy Ecobaby Fun Art supplies and great craft ideas by checking out our BabyBlog. Please email me if you have any questions or want further information at info@kindynews.com. Enjoy your shopping!
30 Days Money Back Guarantee
---
Standard Shipping
- $0.00 (ETA: 6 days)
great for baby and environment 07/05/15

By:

Jackie W

on 15 July 2015

great for baby and environment 07/05/15 very soft and washed so well, lovely fabric




(5)